Get a quote
Rec-Turf SP (Spray Track) is the all-around synthetic surface used in most athletics facilities, running tracks, and run-up tracks. Its composition of rough, bound granules makes it effectively resistant to spikes. It's the preferred surface used in schools, recreational activities, and track and field competitions.
HIGH PERFORMANCE SURFACE FOR STADIUM RUNNING TRACKS
Rec-Turf SP is built to last
Rec-Turf SP  is a durable, high performance, all-weather synthetic surface that's suitable for use in schools, recreational activities, and competitive sports like track and field competitions. It's also ideal for sports and recreational facilities with running tracks and run-up tracks. The system consists of two layers that are 13 mm thick—a polyurethane-bound rubber base mat and a structural spray top coat. The mat foundation is made of 10 mm thick black rubber granules mixed and bound with colorless polyurethane. The second layer, which is the cinder surface, is 3 mm thick and spray-coated with a polyurethane base. The spray coating is red or a dark reddish brown, but options are available for those who prefer other colors. The surface is spike-resistant, waterproof, and also resistant to UV ray damage. Rec-Turf SP fits into an asphalt-carrying layer.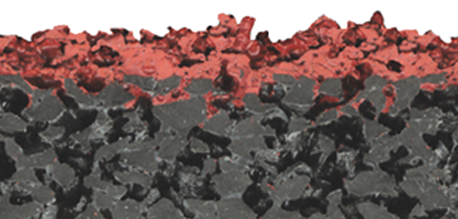 Durable, reliable all-weather synthetic surface for all-around purposes
In keeping with decades' worth of success as a trusted brand in the industry, the Rec-Turf SP system is made to be durable and resilient. Its qualities make it ideal for all-around use not just in sports and recreational facilities, but also in competitions. This product is IAAF certified and fulfills all environmental capability standards according to tests conducted by independent testing laboratories.
Areas of Use
All-around athletic use
High Schools
Stadiums
College and Universities
Specifications
Type: Structural spray-coated surface
Water permeable: Yes
Thickness: 13 mm minimum
Colours: Red, green and special colours
Surface: Bound granules, rough, spike-resistant