Get a quote
Rec-Turf REC artificial turf is extremely hardwearing and durable – and yet unbelievably soft. This system combines the advantages of a curly monofilament design that greatly reduces the maintenance demands for the surface. It is an exceptional recreational turf product great for fields with high usage rates.
A New Dimension In Elite Turf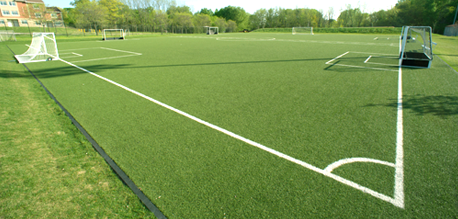 Soft grass, tough performance
Rec-Turf REC artificial turf is a very unique surface that is extremely durable – and unbelievably soft to the touch. Rec-Turf REC combines the advantages of crimped, 100% PE monofilaments fibers and the safety benefits of a Poly-Shock Pad underlayment.  The 200 µm thick monofilaments provide an outstanding level of wear resistance. In addition, the crimped fibers lock in infill which reduces particle migration and greatly reduces maintenance needed for the surface. Rec-Turf REC is a perfect for recreational and training fields at Colleges and Cities with very high field usage rates.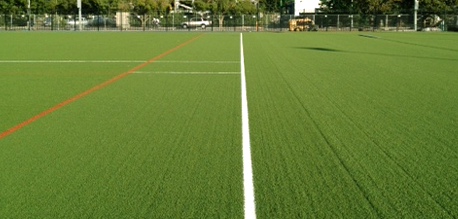 Combining the best of both worlds 
What is unique about LigaGrass is the monofilament fibers, or fake grass blades, undergo a unique texturizing process which creates a crimped shape. Because of the unique shape, these monofilaments have the effect of locking into one another and preventing infill from being lost or displaced, even during rigorous activity such as tackling and kicking. By trapping the infill material in place and preventing infill 'fly-out' player safety is not only enhanced but the maintenance demands of the surface are significantly reduced.
Areas of Use
College & University facilities
Training venues
Recreational Fields
Production Specification
Monofilament turf fibres
Exclusive  100% PE formulation
Exclusive  Crimped Fiber
Fiber thickness approx. 210 µm
Lisport testing >40,000 cycles without damage
Features 1″ mm Poly-Shock Pad underlayment
Playing Properties
Longest lasting natural playing qualities
Superior durability thanks to new fiber technology
Minimal maintenance due to crimped fiber and Poly-Shock Pad
Passes FIFA 1-Star Recommended Certification
Highly cost-effective surface for field operators
Minimal infill migration or 'splash'